Browsing This
Posted in April 27th, 2010
16th April saw me headed to the Botanical Gardens with Yongwei, and new friends HongPeng, Winnie and Elaine.
As this was the first time I've met them and since they were oh so young, I told them I was 21 until an hour after we met
Hmm, the Orange Clove people probably thought I was 21 too… but I digress.
We were at the Botanical Gardens (beside Gleneagles hospital) despite the rain earlier for a food tasting session by Neo Group's Orange Clove Catering. And no, they have nothing to do with disgraced film-maker Jack Neo.
Note: Pictures below are grabbed from HP, Yongwei and Winnie simply because I was too lazy to bring my camera
That's us (other than Yongwei who took the picture) walking towards the Botanical Gardens.

They all look so young! No?
Haven't been here since forever…

Group shot of us before the event started.

A look at the room around us…

The list of food available that night..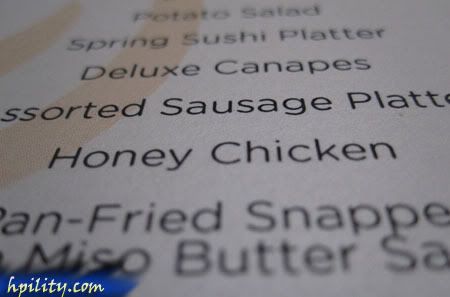 And the goody bags. Each of us took one (except for Yongwei who took 5), and inside were some basic details about them, and some macarons.

The macarons which were stashed in each goody bag~ There were good! And no, those are not my nails =_=

The event didn't start on time as the rain hampered many people's efforts in coming, but we met a few of the friendly and pretty ladies from Orange Clove all decked out in white (that's the theme of the night by the way). Although it was a simple gesture, that and other little things really helped to give me a good impression of the company.
When the majority of the invited guests arrived, the presenter gave us a short presentation of the evening's events before we started queuing up for the food…
And here are some of the pictures~
These 'muffins' look great don't they? Incidentally, that's the logo for Orange Clove. And they're really sweet too!

Lemon tarts made of real lemons! The sweet and sour combined makes a good combination (though it was too sour for my young friends)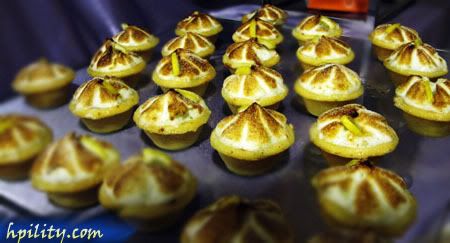 Marble and Cheese cakes… these were really yummy too~

Mango dessert. Too sweet for my friends, not that great for me either.

And on to the real food…
Sausages anyone?

For the health conscious among us…

And the assorted stuff on our plates…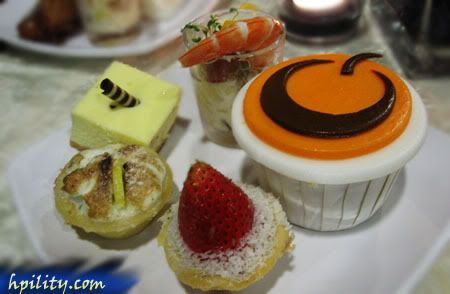 And when all that was safely tucked into our stomachs, it was time for the wine-tasting session!
White wine, and red were served in succession. Orange Clove has a wine tasting event every week and this week's focus was on Spain.
The red wine agreed more with me. The white one was pretty … blend I feel.

6 lucky winners also returned home with a bottle of premium wine. Unfortunately even though they called out Aaron and that handwriting looks a lot like mine, my friends and I didn't win anything.
But we all had a really great time, and while not all of the food tasted that great (my honey chicken was stiff and hard), we all walked away, stomachs full of happy food and tingling with wine.
One warning though, for food that looks and tastes great, it doesn't come cheap.
Do check out Orange Clove's website for more information.
Food will never taste or look the same again…~